When thinking about Reducing anxiety it has more to do with the mind than it does with the circumstances surrounding us. Guided meditation for anxiety can help provide a more stable mindset, and reduce mental tension or stress.  You sometimes can't control what's happening to you or in the world around you. However, you can control how you feel and react and adapt to certain situations.
In a world where more and more people are suffering from some sort of anxiety disorder, meditation can help people live more tranquil, calm lives.
Meditation teaches us to be more conscious of the present and less in our heads. We have a habit of allowing thoughts to enter our mind and follow them. Sometimes these are pleasant thoughts, but many times these can be worries, stressful thoughts, anxious feelings, and anxiety.

Often, we allow ourselves to follow these thoughts and even become these thoughts. Even though nothing may be happening to us physically at that very moment, we still may feel unsure or anxious about the future as a result of our thinking.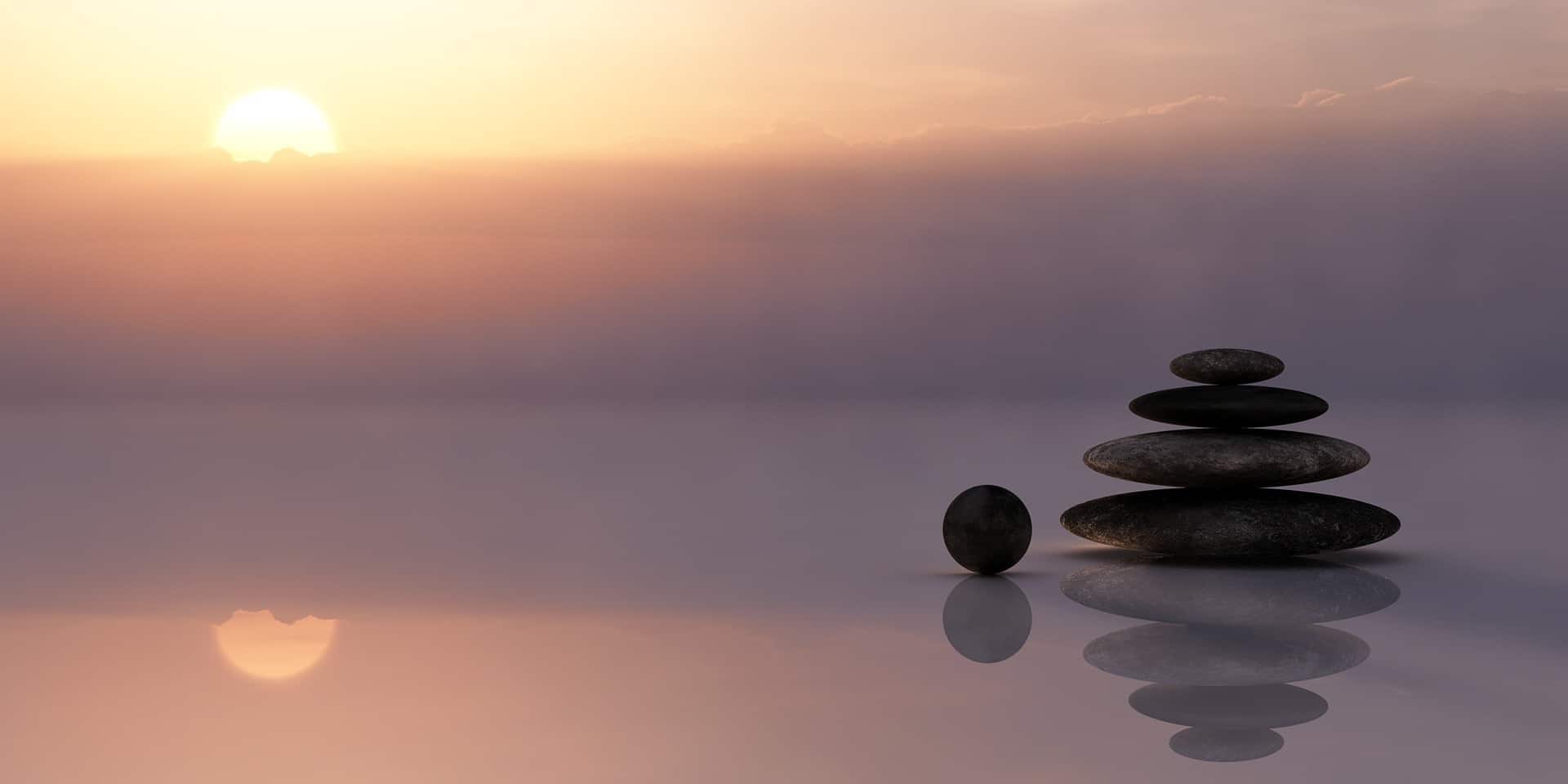 Meditation for anxiety is a distinct, guided experience that allows us to practice becoming more present, as well as provide a technique to deal with thoughts and the reality that is our busy and active mind. This practice is also known as mindfulness, which again, trains our brain to be present by focusing our attention away from thinking and into things that ground us into the present such as breathing and physical sensations.
Meditation is used both as maintenance and a treatment. It's there when you're experiencing bouts of anxiety and need to calm down, and it's there when you carve out some time to practice mindfulness to be more prepared for life.
How meditation reduces anxiety
Guided meditation for anxiety helps us observe our thoughts and emotions without judgement. The common thing most people do when a thought enters their mind is to follow it, judge it, dwell on it, and become lost in it. Instead, a regular meditation practice trains us to be present. It helps us get out of our head, and to even act upon a situation with a more realistic, rational approach. 
This allows us to control the way we see and react to our anxiety, instead of allowing our anxiety to control us. We don't need to become identified with our thoughts or become overwhelmed by them. A regular meditation practice can help us change our relationship to anxiety. It may not make anxiety go away, but it may help you make friends with this anxiety, especially if it's a diagnosed condition that you will just need to live with. This acceptance can help us suffer less than we suffer.
This is supported by studies as well. In a studies show brain scans showed which areas of the brain were activated and deactivated by volunteers suffering from anxiety, when they practiced mindfulness meditation.
The study showed that when the volunteers with no previous meditation experience reported anxiety relief, the anterior cingulate cortex and ventromedial prefrontal cortex (areas which control emotions and worrying respectively) were activated. The volunteers had four 20 minute sessions and reported a reduction in anxiety by as much as 39%.
Meditation for anxiety also gives people a technique and tool to cope and deal with anxiety and even panic attacks as they happen. Often, when a panic attack or wave of anxiety comes, we don't know how to deal with it. Usually, dealing with it can mean stressing about it, which only serves to exacerbate the feelings and situation. With guided meditation, we have a tool that we can turn to and use to more effectively deal with anxiety.
Studies have also shown that anxiety sufferers who turn to guided meditation have reported increased feelings of control, an increased sense of a general well-being, as well as an increase in overall optimism. These feelings go a long way in mitigating the frequency and intensity of anxiety.
How to meditate for anxiety
To learn how to meditate for anxiety, it's probably best that you use a guided meditation. Especially for sufferers of anxiety, it can be pretty distracting to try and teach yourself meditation from a set of instructions.
A guided meditation will walk you through the process, as well as provide constant reminders to stay focused on the practice.
You will also get access to our private community group full of likeminded people that help motivate each other on a daily basis.
Use our 10 minute guided meditation for anxiety in a morning and it will reduce your anxiety within 3-7 days whilst also making you feel more present. 
Instructions of how to use your audio therapy session once you have purchased it, Click Here